The Annual Party of Shenyang Internet Chamber of Commerce Was Solemnly Held
The Annual Party of Shenyang Internet Chamber of Commerce Was Solemnly Held
The Annual Party of Shenyang Internet Chamber of Commerce Was Solemnly Held
On January 10, 2019, the Shenyang Internet Chamber of Commerce held its annual grand party at the Renaissance Shenyang West Hotel in Shenyang. The theme of this annual party is "New Foreign Trade, New Journey, New Northeast China", with 350 participants. As a member of the Internet Chamber of Commerce, our company has the privilege to participate in this event. We gathered to celebrate the vigorous development and further improvement of the Internet Chamber of Commerce in the new year.
This annual party was unusually brilliant. The first part was that the representatives of each company walk on the red carpet. Everyone dressed up and showed the best demeanor of their enterprises.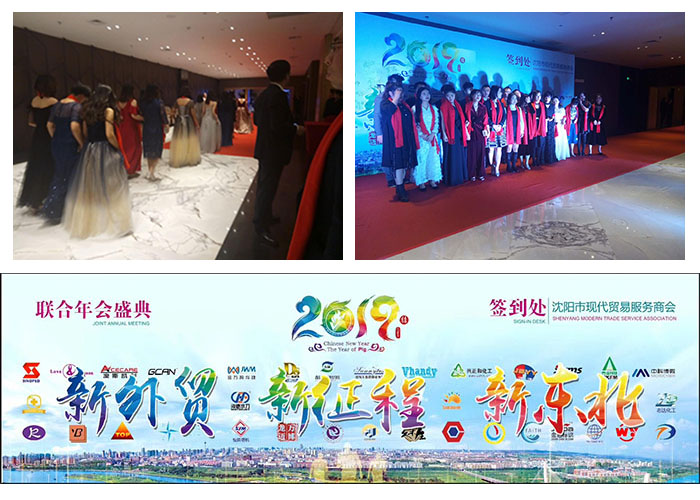 After that, everyone entered the venue and took their seats, and the annual party officially began.

At the beginning, we reviewed the course of the Internet Chamber of Commerce, and then several leaders came to the stage to give speeches, wishing this annual party a successful holding.
Next, there were rich and colorful literary and artistic programs brought by various companies of the Chamber, including energetic dances, uproarious sketches, and exciting lucky draw. The whole party was full of applause, cheers and climax.
The rich and colorful performances are beyond our eyes.

In the hot toast and chatting, the evening party ended satisfactorily. This annual party fully demonstrated the brilliance as well as the positive, enthusiastic and enterprising spirit of the members of Shenyang Internet Chamber of Commerce. It also reflects that our Chamber is a highly talented, energetic and hopeful organization. Shenyang Internet Chamber of Commerce, today is very good, tomorrow will be better!
Get the latest price? We'll respond as soon as possible(within 12 hours)